Vehicle data APIs are finding profound use in the automotive industry today, especially in dealerships. Dealerships are actively involved in marketing and sales, and they have to implement different approaches during sales as the services that consumers receive while at a dealership have an 85% influence on the customer's likelihood to purchase another vehicle from the dealership.
Putting that into consideration, dealerships have to make sure their services, marketing, and sales positively impact their customers. The easiest way to do this is to embrace the use of vehicle data APIs.
What is an API?
APIs are generally employed in various fields and industries today. API stands for "Application Programming Interface." It acts as a software bridge between two or more applications, websites, software programs, and so on. An API delivers requests and provides responses at the same time, allowing easy transfer of information between two applications, websites, or other software.
A vehicle data API is a car API that is used in the automotive industry to provide data solutions for dealerships and other automotive businesses. With an API integrated with a dealership's website, they can provide vehicle information with speed, agility, and extremely high accuracy.
There are a number of vehicle data APIs that dealerships could introduce to their applications and software, but the most recommended vehicle data APIs are introduced in the next section.
5 Vehicle Data APIs That Every Dealership Needs
The most recommended vehicle data APIs every dealership needs are
OCR API services.
Vehicle specifications API.
Vehicle History API.
Vehicle market value API.
Vehicle Media API.
OCR API Services
When customers are really interested in a particular vehicle, they may want to know a lot more about it than is visible. They may want to discover the hidden history of the vehicle with a vehicle history report or run a plate check. With a high-tech Optical Character Recognition car API integrated into your dealership's application, consumers can simply scan the VINs, US license plates, and barcodes of any vehicle of their choice. This eliminates the need to manually enter the VIN and license plate numbers and reduces the error involved with typing.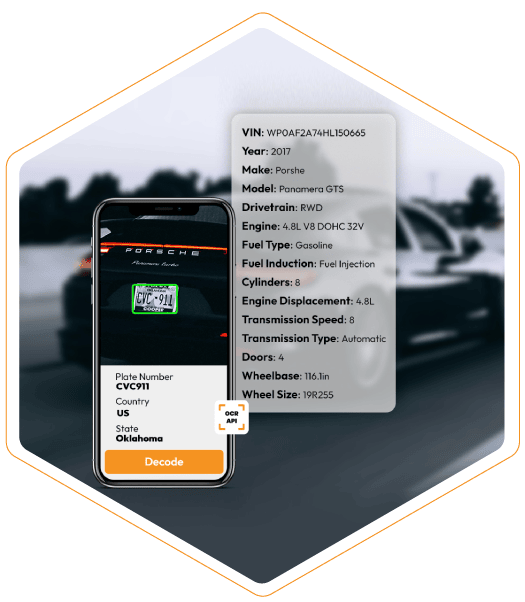 The OCR car API services provided by Vehicle Databases to dealerships feature high-speed text recognition, extremely high accuracy, a REST-based HTTPS interface, and support over 30 simultaneous VIN or vehicle queries using a single HTTPS post request. With this API, customers are able to complete their purchases faster and happier.
READ ALSO: How Can Vehicle Information APIs Be Helpful For Your Businesses?
Vehicle specifications API
When car buyer visits a dealership to purchase a vehicle, they do so with certain models, trims, and specifications in mind. Providing an application that provides access to the vehicle specifications of the cars in your dealership gives consumers access to important information such as the year, make, model, engine specifications, and other vehicle specifications.
With the vehicle specifications API provided by Vehicle Databases, dealerships, and other automotive businesses are provided with detailed vehicle specifications on a vehicle's year, make, model, trim, trim variations, doors, engine, fuel type, vehicle category, vehicle type, and style, seating gears, transmission gears, transmission type, and other vehicle specifications.
Providing accurate vehicle specifications for customers increases the reputation of a dealership. With a customer looking right at the vehicle specifications, they will easily find you trustworthy, improve your sales rate, and build the right reputation for dealerships. The Vehicle Databases API can also play a big role in fleet maintenance, vehicle marketing, automobile garages, service centers, auto parts dealers, and other automotive businesses.
Vehicle History API
The vehicle history API provides customers with the full history of vehicles before any purchase is made. A VIN decoding API, after integration into an application or website, grants users access to the history and records of their vehicles. These records may be car accident records, service records, damage records, maintenance records, salvage records, title brand records, lien and loan records, accurate odometer readings, and others.
Dealerships offering vehicle history report services to their customers are regarded as having high-quality inventories. If you are a dealer and you run a used-car dealership, you should consider providing digital solutions to your customers with a vehicle history API provided by Vehicle Databases.
Vehicle Market Value API
The market value of a vehicle is the average price of that vehicle at dealerships. This average is usually computed from previous records of vehicle prices and the current trends in the market. Having this information handy whenever a customer requests it efficiently improves the dealership's sales rate. The vehicle market value API, also known as the car value API or the car sales API, is a very useful tool for dealerships. The vehicle market API provides dealerships and other automotive businesses, as well as their customers, with real-time vehicle costs, which improves sales and saves time.
When consumers are provided with the fair market value of a vehicle through the Vehicle Databases API, they are able to make choices that fit into their budgets and needs.
Vehicle Media API
When it comes to dealerships, advertising and marketing play a major role in sales, and what is marketing without good pictures and videos? With great pictures, dealerships can easily capture the attention of consumers and car buyers and effectively promote sales.
With the vehicle media API provided by Vehicle Databases, car dealerships, and automotive businesses can promote their products and services and enhance product listings with high-resolution images. The API, through a dealership's application or website, can generate over 7000 images of different car brands and models.
These are the top 5 types of vehicle data APIs every dealership needs to expand their businesses. There are some other vehicle data APIs that are highly recommended for dealerships and automotive businesses, such as:
Vehicle Services API.
Auction history API.
Sales history API.
Window sticker API.
VIN decoding API, and others.
If you are looking for the fastest way to generate accurate data for car buyers and enthusiasts, then you may have to consider introducing a vehicle data API to your website or application. With the car APIs from Vehicles Databases, dealerships can provide accurate high-tech OCR VIN scanning, vehicle specifications, vehicle history, fair market value, ownership costs, car images, and more.
Companies benefiting from Vehicle Databases' APIs
Here are some of the automotive companies that make use of the Vehicles Databases' API for the provision of services to their customers.
Classic Decoder
Classic Decoder is the first company to introduce a classic car VIN decoder app to the general public. With the Classic Car VIN Decoder application, customers are provided with classic vehicle history reports with the help of Vehicle Databases' vehicle data API. Classic decoder utilizes the vehicle specifications API, vehicle history API, vehicle market value API, vehicle media API, and others to provide accurate classic vehicle history reports, classic car window stickers, etc., to their customers.


Detailed Vehicle History
Detailed Vehicle History is one of the leading providers of vehicle history reports to the general public today. Detailed Vehicle History provides vehicle history reports to car owners, buyers, and enthusiasts through their websites and applications with Vehicle Databases' APIs. They can provide VIN checks, VIN decoding, window stickers, vehicle recalls lookup, license plate lookup, classic VIN decoding, classic vehicle history, and other services using the APIs.
Consulta De VIN
Consulta De VIN is a company that provides vehicle history reports and window stickers to its Latin American customers. They do this with the APIs integrated into their websites, and they provide excellent services to their customers. Some of the Vehicle Databases' Vehicle history, OCR, Window sticker, VIN decoding, Recalls, and maintenance APIs.

Are you unsure of how the Vehicle Databases' APIs can help grow your business? You can book a demo with us, and you will be shown how to integrate the types of vehicle data APIs into your websites or applications to optimize your business and boost your automotive business's sales rate.