Car buyers visit the dealership with the intention of purchasing reliable vehicles at affordable costs. This is only possible when the right vehicle information is provided to car buyers. This process used to be a manual, time-consuming process until the introduction of VIN decoder APIs. A VIN decoder API is a set of programming codes that collects vehicle information from vehicle databases and provides this information to car buyers and sellers through websites and applications.
With a VIN decoder API integrated into a dealership's or automotive business's websites or applications, they can save time spent on sales, increase their sales rate, and gain a competitive advantage over other automotive businesses. In this article, we will take a look at the 5 best VIN decoder API providers in 2023 and their API VIN decoding features.
What is a VIN Decoder API?
A VIN decoder API is a software interface that transfers vehicle information from one software to another. A VIN decoder API collects vehicle data from several databases and the Vehicle Identification Number (VIN) of the vehicle. A VIN is a 17-character code that is assigned to every vehicle upon manufacture. With this VIN, car buyers, sellers, and owners can gain access to the year, make, model, engine, and other vehicle specifications.

A VIN decoder API works by receiving a VIN as input and it then returns a response in JSON format that contains all the vehicle information that is encoded in a VIN. With the VIN decoder API integrated in a website, this response can be presented to customers as their VIN data, including the year, make, model, engine type, and other information.


The 5 Best VIN Decoder API Providers
There are a number of VIN decoder API providers in the used car market, but this list is focused on the very best. The 5 best VIN decoder API providers available to dealers and automotive businesses are:
Vehicle Databases
DataOne Software
CarMD
Auto.dev
Vincario
Vehicle Databases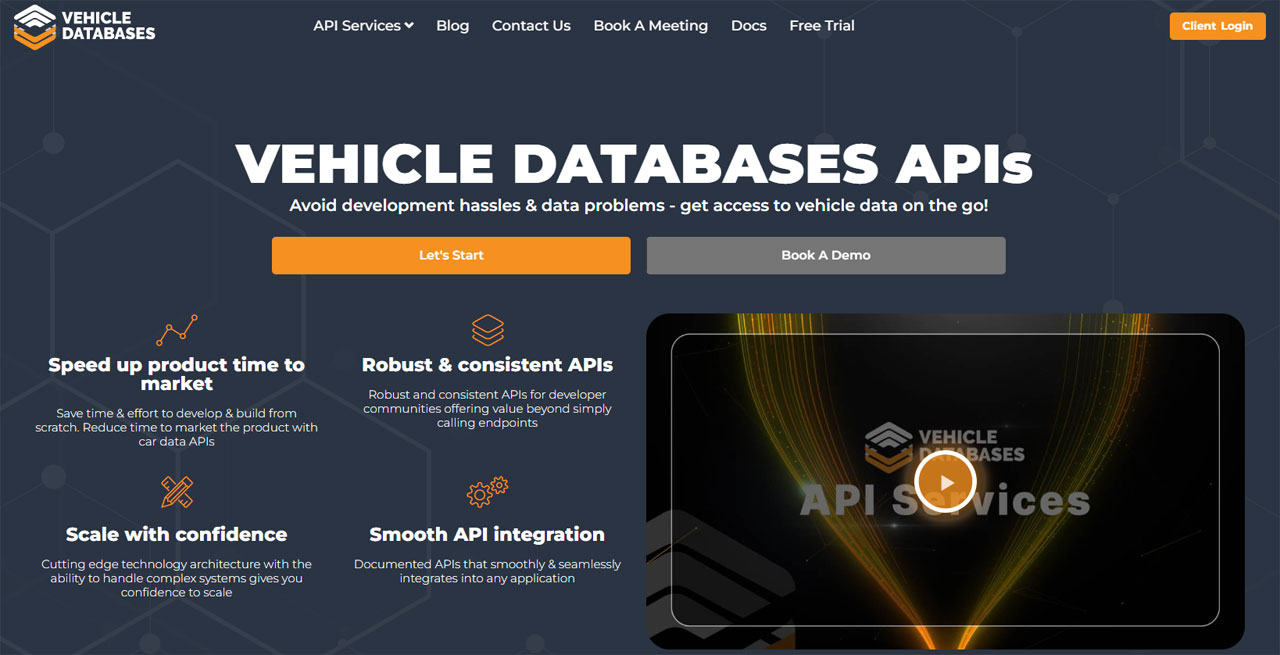 If you are looking to provide accurate vehicle specifications to customers within seconds, then the Vehicle Databases is the best choice for you. With the Vehicle Databases VIN Decoder API, dealerships and other automotive businesses can be sure of boosting their sales in no time. Vehicle Databases is one of the best VIN decoder API providers because of the following:
Easy decoding of all Vehicle Identification Numbers (VINs)
RESTFUL API that's easy to integrate
US and UK license plate numbers are decoded in seconds
Suggestions are provided when incorrect VINs are entered
Extremely accurate responses for vehicle year, make, model, and more
Provision of support for all vehicle types, including classic vehicles with 5-digit VINs, 7-digit VINs, 13-digit VINs, and so on
Detects incorrect or partial VIN numbers with ease
Free demo and trial of the APIs you are interested in
After the VIN decoder API provided by Vehicle Databases has been successfully called, it provides customers with information on a vehicle's year, make, model, trim, and more. With the Optical Character Recognition API provided with Vehicle Databases, human errors involved with manual VIN entry can be eliminated, and VINs can be correctly decoded to provide accurate VIN data information to customers.
Other VIN APIs provided by Vehicle Databases include the VIN check API, vehicle services API, Vehicle media API, VIN lookup API, window sticker API, VIN scanner API, vehicle specification API, Car market value API, auction history API, sales history API, and more.
DataOne Software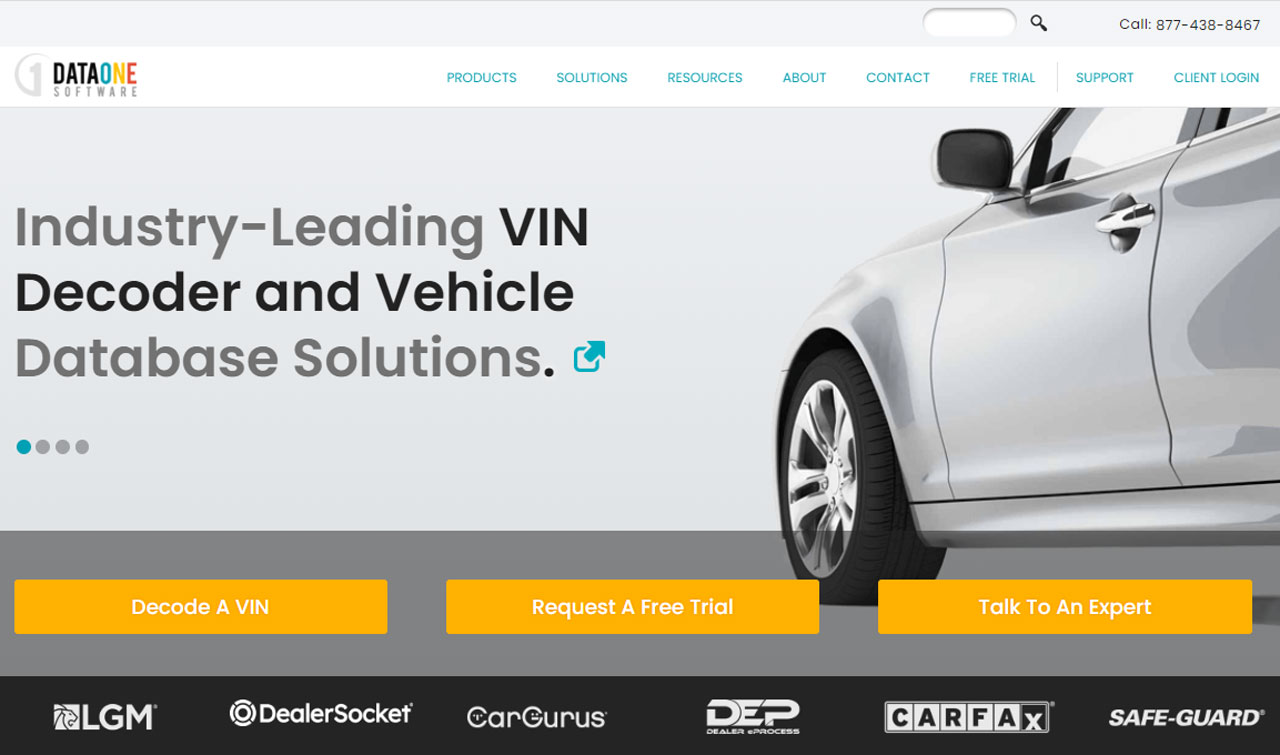 DataOne Software is one of the best VIN decoder API providers with an easy-to-integrate VIN decoder API. DataOne Software offers VIN decoding logic with accurate matches to customer-provided VINs and precise vehicle information. The VIN decoding API from DataOne Software uses information from manufacturers and government agencies to decode VINs and offer accurate equipment information through automotive websites and applications to car buyers, sellers, and owners.

With the technical specifications provided by this VIN decoder API, dealerships are able to gain a competitive advantage over other dealerships and reduce the time required to seal a deal with car buyers. DataOne Software provides:
Technical specifications
Safety features and installed options for vehicles
Exterior and interior colors
Enhanced images, etc.
The VIN decoder API provider also offers a VIN check API, APIs for car service data, and APIs for vehicle research data.
CarMD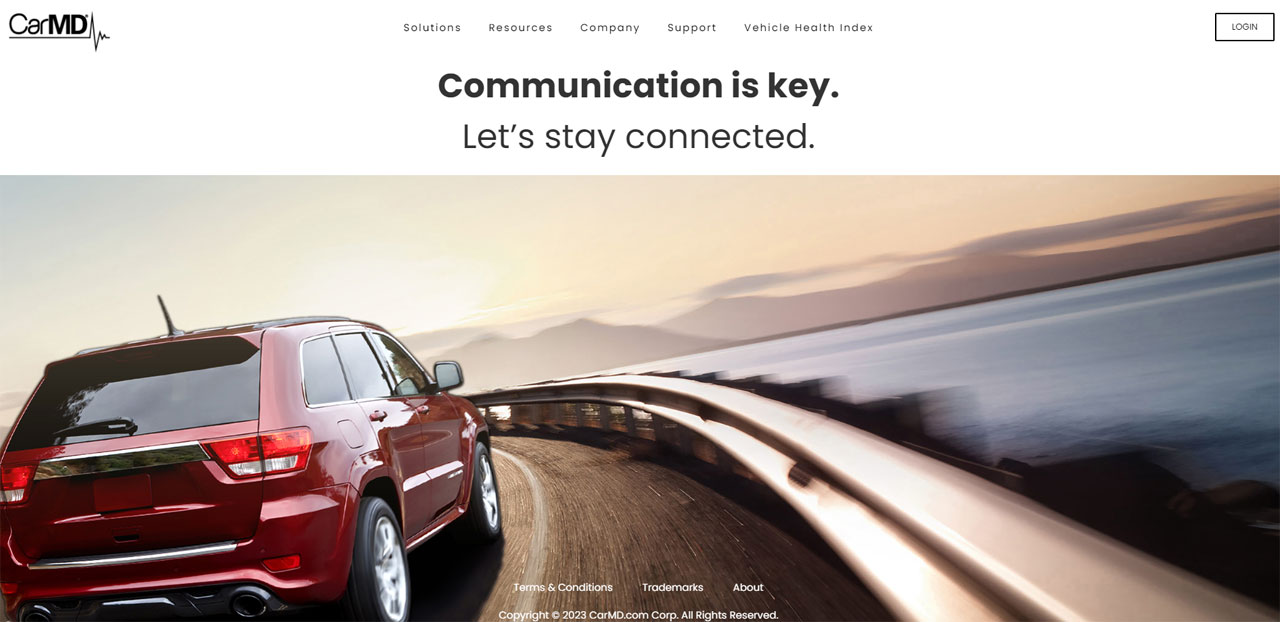 CarMD offers a VIN decoder API that provides accurate VIN data to car buyers, sellers, and owners. The basic CarMD VIN decoder API gives information on the year, make, model, manufacturer, engine, trim, and transmission for automobiles manufactured between 1981 and the present. The premium CarMD VIN decoding API enables dealerships and other automotive companies to give their clients comprehensive vehicle specifications, including detailed battery information, vehicle description, engine information, manufacturer information, and more.
They provide up to 25 free API requests per month and charge a fee for additional CarMD VIN decoder API usage. Other vehicle data APIs provided by CarMD include:
OBD2 port location API
Vehicle maintenance API
Vehicle repair parts and costs API
Vehicle code definitions API
Predicting vehicle breakdowns API
Technical service bulletins (TSB) API
Safety recalls API
VIN check API
Vehicle warranty API
Car image API, and more
Auto.dev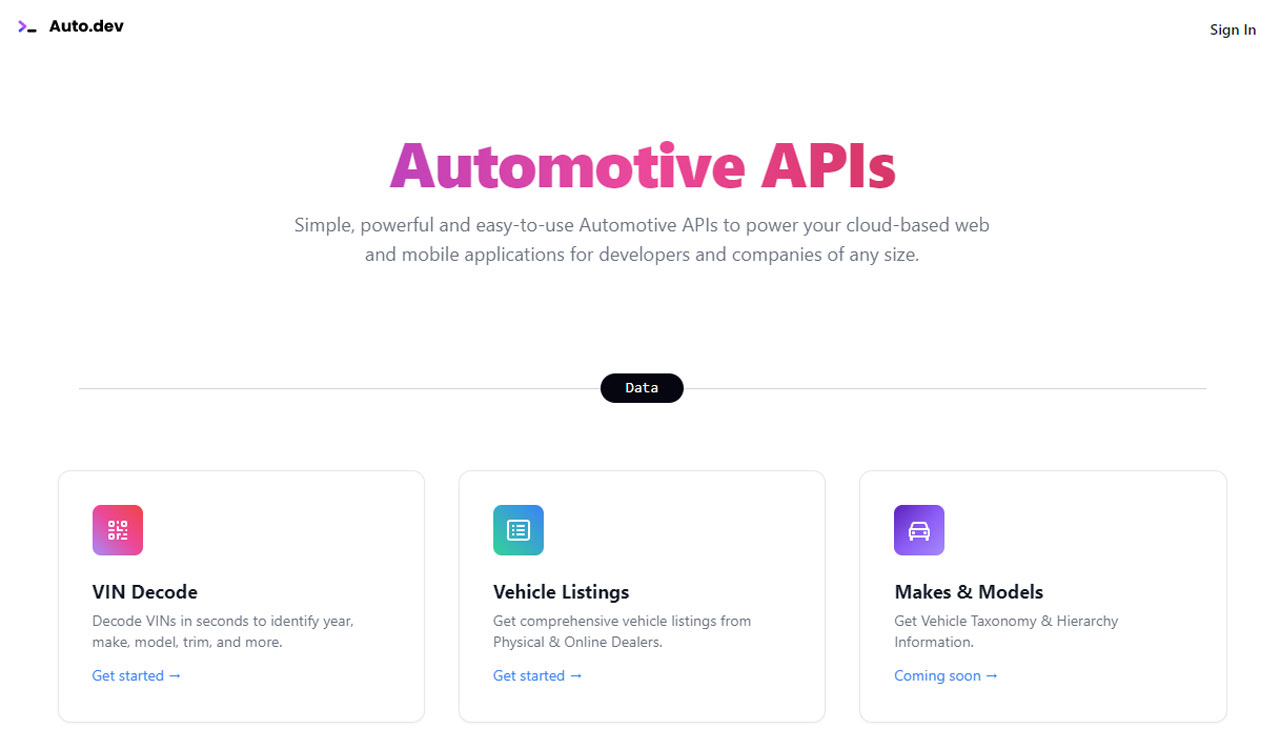 Auto.dev is a VIN decoder API provider that provides simple and easy-to-use APIs to dealerships and automotive businesses for the provision of vehicle specifications, histories, and records to car buyers, sellers, and owners. Auto.dev. The information provided by Auto.dev to customers through websites and applications includes:
Year, make, model, trims, etc.
Vehicle options
Interior and exterior colors
Accurate vehicle specifications
Market value information
Engine information
If you are in need of a free VIN decoder API, Auto.dev can easily meet your needs. The VIN decoder API provider, Auto.dev, offers one-month free packages to dealerships and other automotive businesses, after which they would be required to pay a fee. Auto.dev also provides the following APIs: a make and model API, a vehicle listing API, a vehicle valuation API, and a vehicle history API.
Vincario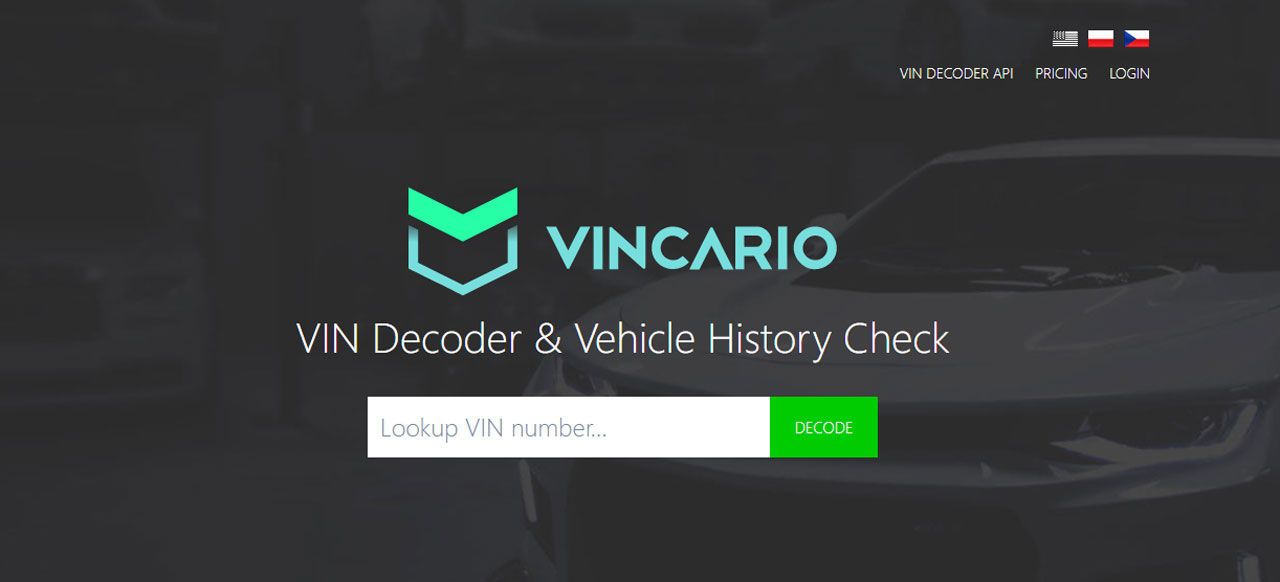 Last on our list is Vincario. With the Vincario VIN decoder API, dealerships and automotive businesses can be sure of providing the best VIN information to their customers. Some of the benefits of using the VIN decoder API provided by Vincarios include:
Dealerships can boost sales with easy VIN decoding services
Saves time and money
Easily decode the VINs of all vehicle types
Swift API responses are assured
These five VIN decoder API providers can easily fit into most common automotive businesses, from dealerships to fleet management, car rentals and sharing, and even car insurance and leasing services. Before choosing any VIN decoder API provider, make sure the API can easily meet your business needs. Vehicle Databases is one of the most diverse API providers. They have a wide range of APIs that can easily meet your needs in the automotive industry.