How VIN Decoder API Can Help Automotive Businesses
Is it necessary for your business to obtain a VIN decoder API? Obtaining vehicle specifications by VIN decoding is essential for many businesses in the automotive industry.
Some may just require basic vehicle specifications, some businesses need engine specifications, while some are concerned with the installed equipment or vehicle dimensions data.
Different businesses have different use cases, but access to vehicle specifications through a VIN decoder is imperative for business needs and allows ease in obtaining accurate vehicle information that is detailed to include interior and exterior of the vehicle.

Basics of VIN decoding API
VIN decoding API is a solution that can be integrated into a business website, application, mobile app or tools and gives the ability to decode VINs and check VINs quickly in seconds to get vehicle specs.
Working with VIN decoding API is straightforward as it just requires a VIN as an input and as soon as the API is called with a VIN, it returns the plethora of vehicle specifications which includes year, make, model, trim, exterior colors, interior colors, transmission, speed, trim descriptions, doors, vehicle body type,safety ratings, safety features, convenience and comfort features, engine details ,fuel type, capacity, fuel economy, including city, highway, and combined, performance specs, vehicle dimensions like height, width, length, interior and exterior dimensions and more.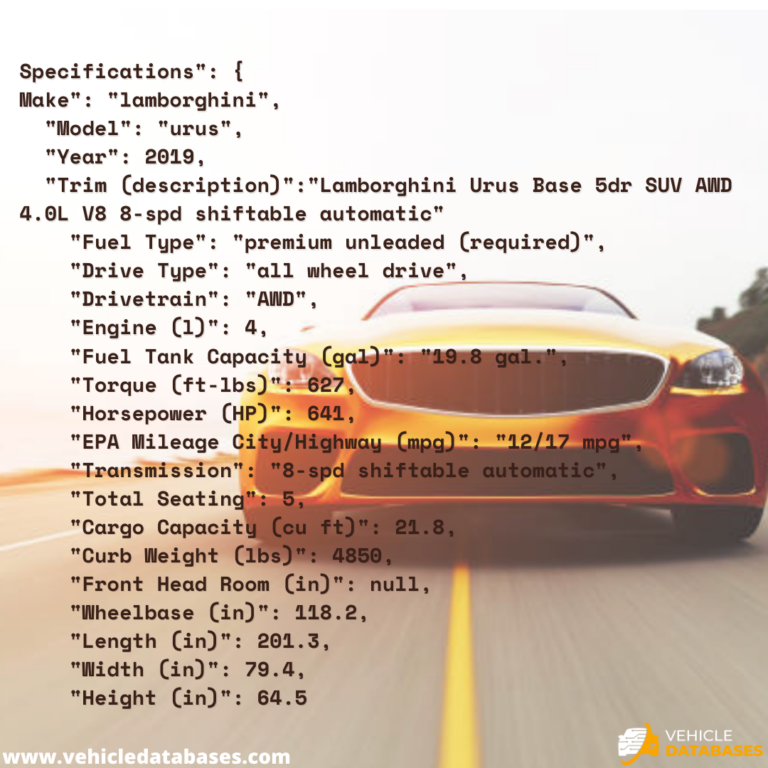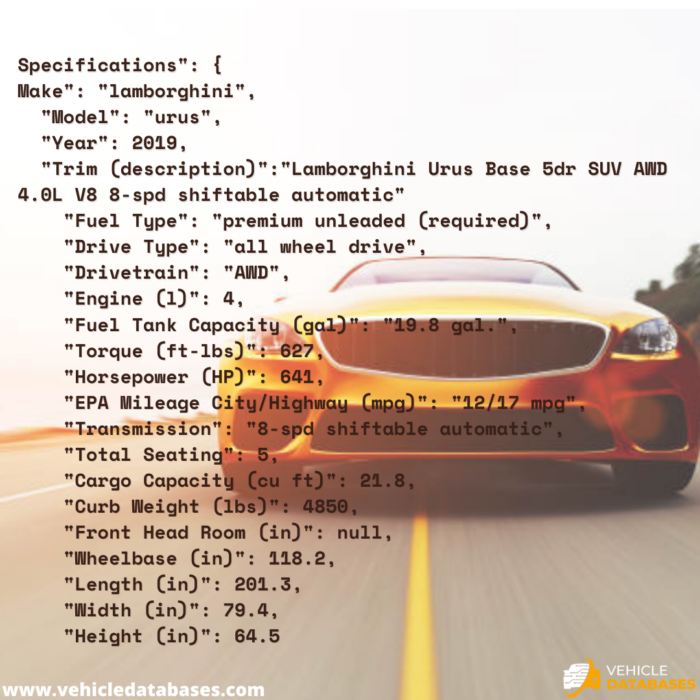 Which businesses needs VIN decoder API
VIN decoding solution that seamlessly integrates into websites, applications or their internal tools allows automotive businesses to get vehicle specifications in seconds by VIN decoder API Here is a list of businesses who should leverage VIN decoding API solution with highest accuracy get benefits.
 Auto retail businesses require VIN-based information i.e. VIN specifications to list their inventory with accurate OEM compliant specifications. Advertising inventory online to sell requires accurate vehicle specifications to be listed. 
Nonetheless, the auto retailers need more information than vehicle specs, i.e, vehicle market value and vehicle history by VIN if the business is a used-car retail market and thus, integration of VIN decoder API along with vehicle market value and vehicle history API can help suffice all the business needs since customers are interested to know about the vehicle history of the car they intend to buy. Learn more about Vehicle Databases's vehicle history API.
Auto parts can leverage the power vehicle specifications API to allow a smooth and efficient process of purchase, distribution, and replacement of auto parts like engines or tires.

On the other hand, they can provide consumers with a feature to easily customize their vehicles with more specifications and year, make, and model details.
Vehicle Databases VIN decoder API is a solution that provides accurate trim based information of a vehicle covering all manufacturers, years and models. Hence, accurate VIN-specific parts information makes procurement and delivery easy ensuring customer satisfaction.
Service & repairs industry
VIN decoding API can be leveraged by the services and repair industry including garages, body shops, mechanics, and used car dealerships to get access to vehicle specifications covering vehicle interior/exterior dimensions, installed equipment, color codes, engine, transmission details, and other data that underpin and facilitate service and repair procedures.
For instance, using the interior and exterior color information, the vehicle under service can be painted with the vehicle's exact color. Not just that, services and repair businesses and dealership s can increase their ROI by integrating recalls by VIN or maintenance schedule APIs that is used to draw customers for services and repairs. 
Learn more about Vehicle services API 
Auto insurance businesses can get access to VIN specifications that allows ease in risk assessment of driver and vehicle itself by analyzing safety related specification, aids in generating quotes, submitting claims, and in underwriting insurance policies.
Coupling VIN decoder API with vehicle history API gives access to the vehicle history, including ownership records, mileage information, accident and damage information, auction history, and more information that's valuable for insurance companies while dealing with car insurance procedures.
Vehicle databases VIN decoding API is a technology solution automotive businesses should leverage to automate their business process, provide ease to their customers, increase their ROI, and benefit from the advantages of integrating VIN decoding API.

Book a meeting today to discuss your business needs.